Sponsorship Opportunities
HX: The Hotel Experience is a community for hotel and restaurant professionals. The conference and expo offers unparalleled access to market leading operators and suppliers who are committed to sharing education, solutions, creativity and innovation in order to deliver an extraordinary guest experience and improved community profitability.
Through any of our unique sponsorship products, you have the chance to make your company or product stand out from the crowd. Explore all of the opportunities HX has available below and please do not hesitate to reach out to Neil Hochman with any questions or for more information.
REGISTRATION SPONSOR
Be seen by thousands of attendees who will use our on-site registration terminals to register or print badges for this year's HX. Your company name, booth number and a direct link to your website will be on the online registration portal and onsite at the registration counters.
LANYARDS
Provide all attendees a user-friendly way to wear their show badge. Lanyards can promote your message, logo and booth location. 
Sponsor provides lanyards.
ATTENDEE BADGES
Opportunity to have your company name and logo prominently displayed on all HX attendee badges. Logo can be displayed on the front and/or back of badges. Company logo will also be included on overall show sponsorship signage.
TOTE BAGS
High impact opportunity to increase your brand awareness at the show. This advertising opportunity features the HX logo, along with your company logo and booth number to help direct attendees to your booth. Bags may not exceed 15"x15" size.
Sponsor supplies bags.
PRESENTING SPONSOR
Expand your reach and plan for increased ROI before, during and after HX as the exclusive presenting sponsor of the show. The presenting sponsor will benefit from perks such as company logo recognition on all HX marketing collateral and website, onsite signage, full page ad in show directory, and dedicated pre-show and post-show eblasts to all registered attendees.
$7,500
Exclusive
$5,000
Up to 2 Sponsors 
HX PASSPORT 
Each attendee will receive an HX Passport card at registration with their badge, that will include your booth number as a required stop for attendees as they travel around the trade show floor. Attendees must collect all required stamps from sponsors to be eligible for a $5,000 cash prize! Take this opportunity to guarantee leads coming right to your booth. Your company logo will be included in all promotions related to the HX Passport game. Note: minimum of 4 sponsors required to play.
$2,500
*Limited to 10 companies
We're creating engagement opportunities in a seated theater on the trade show floor to communicate industry information and trends, and to showcase the latest hospitality products and services.
TED-style talks and expert question and answer sessions will be utilized to focus on real-time attendee needs. These energetic experiences will demonstrate the latest in innovation to attract decision makers to the ON-STAGE theater. Presentations will focus on restaurant and hotel specific topics, such as future trends, technology, sustainability, operational excellence, communications and marketing.
Exclusive Sponsorship Benefits
Company logo with show sponsor designation on HX website homepage.
Company mention in one e-marketing blast (dataset of 50,000 prospects and registered attendees).
Pre-show eblast to pre-registered attendees and past HX attendees.
Company mention and feature in HX attendee newsletters.
Recognition as sponsor on HX mobile app and in HX social media campaign (live interview onsite).
Logo/company name recognition on sponsor signage throughout HX.
Opportunity to host two sessions at the HX:ON-STAGE.
Passport $5,000 cash giveaway stage.
Post-show e-blast to HX attendees.
Company mention and feature in HX post-show attendee newsletter.
Sponsor Investment: $7,500
$2,500 includes a session
TRACK SPONSOR
Connect with attendees through sponsoring one of the robust HX conference program tracks (multiple tracks will be available). Track sponsorships will include company logo included on session title slide, opportunity to introduce session speaker(s), onsite signage, opportunity to provide collateral to session attendees, and 10 complimentary conference passes for clients.
F&B BREAK
Opportunity to engage with attendees in between conference sessions. Sponsorship includes food and beverage assortment for attendees, and sponsorship signage in a designated area.
$3,000 per day
$5,000 both days (exclusive)
Stay top of mind and drive traffic to your booth by advertising in the HX show directory. Hospitality decision makers use the directory as ayear-round valuable resource during and after the show. HX offers a variety of ad sizes and budget friendly opportunities to increase your brand recognition.
AUDIENCE AND DISTRIBUTION
Print show directories will be distributed at central locations on-site to attendees before they walk the show floor.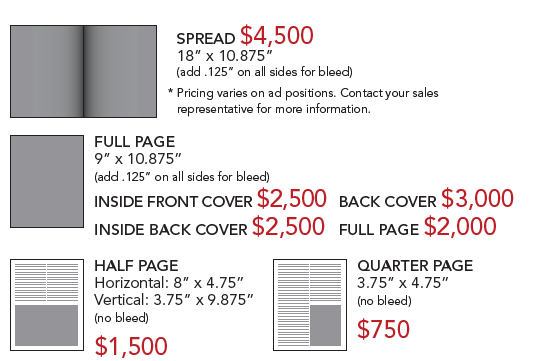 PRODUCT CATEGORY AD
2.25" X 2.25"
Be the first product that buyers see when they search by a specific product category. Your ad will be placed alphabetically within your product's category.
HIGHLIGHTED LISTING WITH LOGO
Get noticed on your listing's page when buyers search for exhibitors by company name. We highlight your listing's background and add your logo. (up to 2-1/4" x 1") Background box color to be determined.
HOME PAGE BANNER AD - 728x90
Maximize your overall show presence by placing a banner ad on the home page of the HX website. *Limited to 3 Sponsors Per Month
Reach 80,000+ website visitors during the months of September - November.
$1,000 Per Month
$1,500 For Sept. 1 - Nov. 30
$7,000 Per Year
ANCHOR BANER (BOTTOM LEADERBOARD) - 728x250
Promote your brand messaging to website viewers throughout the HX website. *Limited to 3 Sponsors Per Month *Limited to 3 Sponsors Per Month

$750 Per Month
$1,000 For Sept. 1 - Nov. 30
$4,000 Per Year
CONFIRMATION OF ONLINE REGISTRANTS
Be seen by confirmed attendees who register online for this year's show. A banner ad with your company branding and a direct link to your website will appear on every online registration confirmation, which also contains important show information attendees are sure to keep their eyes on.
PRIMARY LEADERBOARD AD - 600x100 - $800 Per Issue (1x) / $600 Per Issue (3x)
PRIMARY MEDIUM AD - 300x250 - $700 Per Issue (1x) / $500 Per Issue (3x)
PRODUCT AD (includes 300-character description) - 220x220 - $400 Per Issue (1x) / $200 Per Issue (3x)
BOTTOM LEADERBOARD AD - 600x100 - $600 Per Issue (1X) / $400 Per Issue (3x)
Please note the below is an example from 2020. The HX attendee newsletter is now deployed once a month between April and November.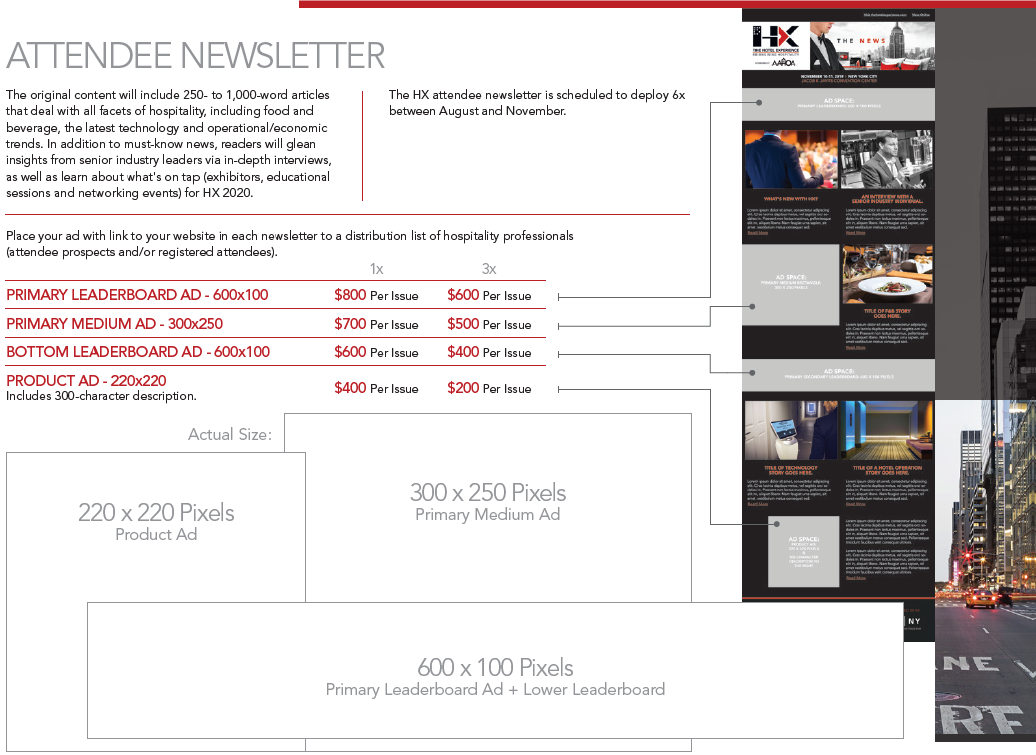 HX will deliver your HTML e-mail message to opt-in users who have asked to receive product information about the show. HTML allows for use of formatted text, images and multiple links. These e-mail announcements feature your message only—with no other on-screen distractions. Limited to two distributions per month.
Connect with thousands of hospitality professionals and suppliers at HX this November 13-14, 2022.
Be the first to know when registration opens.
2022 Media & Association Partners