Strong Signings For Marriott
BETHESDA, MD – At the Americas Lodging Investment Summit (ALIS) in Los Angeles, Marriott International, Inc. announced that the company's deal signings accelerated again in 2022. The company signed an average of two deals a day, for a total of 726 management and franchise agreements, an increase of 21 percent over 2021 signings, representing nearly 108,000 rooms. In addition, Marriott's City Express transaction, announced in October 2022, is expected to add around 17,000 rooms.
Conversions helped drive signings activity, contributing a robust 20,500 rooms, or approximately 20 percent of rooms signed during the year. Half of the 2022 rooms signed were in international markets, including key growth markets such as India, Saudi Arabia, Mexico, and the Caribbean. The company's global development pipeline totaled over 3,000 properties representing more than 496,000 hotel rooms at the end of the year, excluding the City Express rooms.
During the year, the company added 394 properties, representing more than 65,000 rooms on a gross basis, growing the system 4.4 percent. Including deletions of 1.3 percent, net rooms increased 3.1 percent. Excluding the impact of the company's exit from Russia, the deletion rate was 0.8 percent and net rooms increased 3.6 percent. At the end of 2022, Marriott's worldwide system consisted of nearly 8,300 properties and roughly 1.5 million rooms in 138 countries and territories.
Santa Barbara Best Western In The Works
SANTA BARBARA, CA – Hawkins Way Capital has acquired parcels located at 3850 and 3840 State Street, together comprising 150 hotel rooms, a retail pad, and multiple pools across approximately 4.0 acres in the desirable Upper State Street neighborhood in Santa Barbara. The parcels are currently improved with a 68-room Best Western Plus Pepper Tree Inn branded hotel and adjacent 82-room unbranded hotel.
Hawkins Way Capital intends to combine the two properties into a single Best Western Plus Pepper Tree Inn, driving operational efficiencies by sharing resources and capitalizing on the consistent leisure business in the area. A property improvement plan is underway, improving finishes to the latest, elevated Best Western brand specifications. Renovations will consist of refreshed guestrooms and bathrooms, new FF&E and case goods, activated underutilized common area spaces and upgraded exterior landscaping and pool areas.
"Best Western Plus Pepper Tree Inn represents an opportunity to serve the growing needs of the leisure and business oriented traveler in high barrier to entry Santa Barbara. Backed by the strength and accessibility of the Best Western brand, we look forward to offering a budget conscious option to those prioritizing a prime location and modern finishes in a historically supply constrained market," said Ross Walker, Hawkins Way Capital's Managing Partner.
Wyndham Optimistic For 2023
PARSIPPANY, N.J. – Wyndham Hotels & Resorts, the world's largest hotel franchising company with approximately 9,100 hotels across more than 95 countries, is setting its sights on continued expansion in 2023, following a banner year that saw the Company cap multiple milestones and accomplishments across the globe.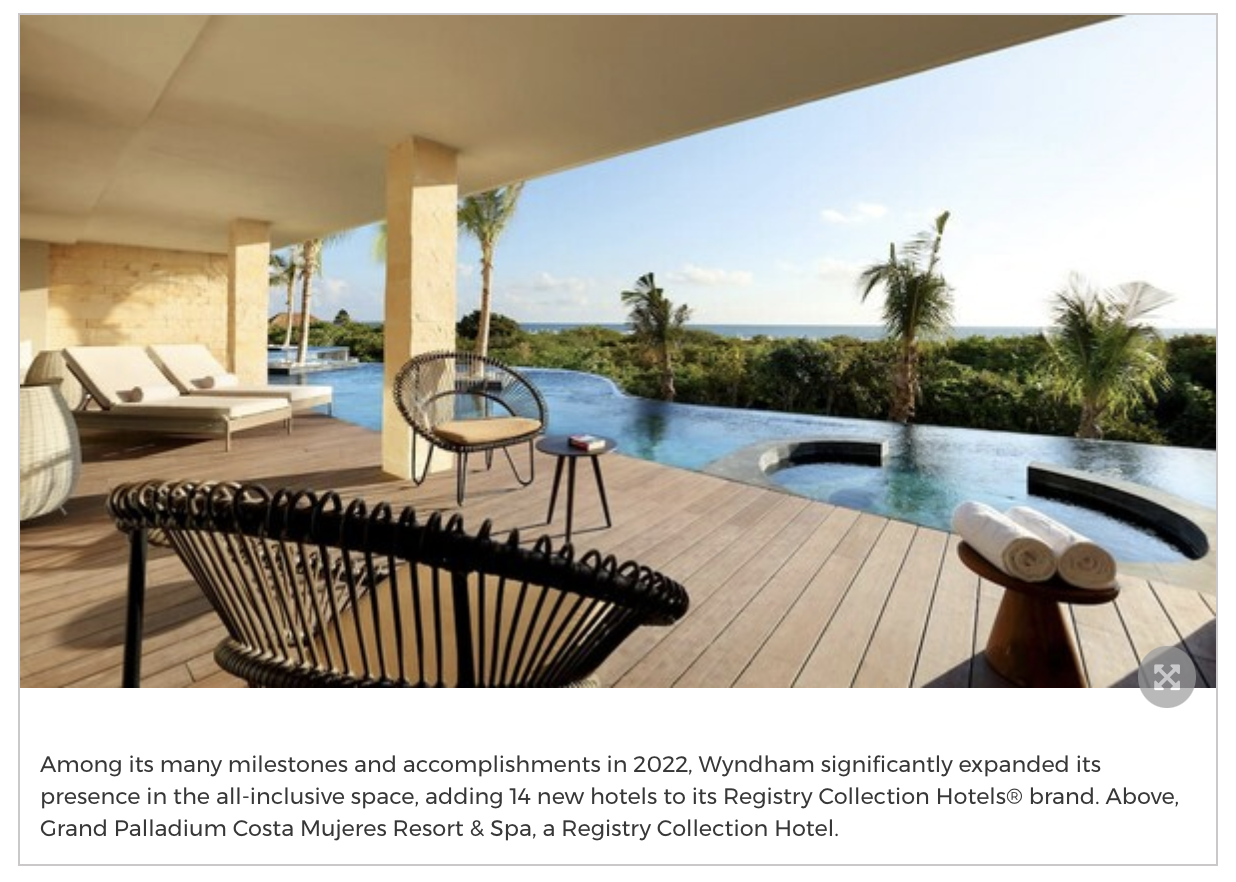 "Last year was an incredible year for the travel industry and for Wyndham," said Geoff Ballotti, president and CEO, Wyndham Hotels & Resorts. "Amid the backdrop of the industry's continued recovery, hoteliers across the world turned to Wyndham and our brands to help them elevate their portfolios and drive their businesses forward. Now, with consumer travel demand holding steadfast, anticipated tailwinds from continued infrastructure spend, and our iconic, trusted brands resonating with travelers like never before, Wyndham and its franchisees remain well positioned for success in 2023."