NEW YORK, N.Y. – If you missed Early rates, you can still get low rates via Advance Rates.
Advance Rates are in effect through November 1.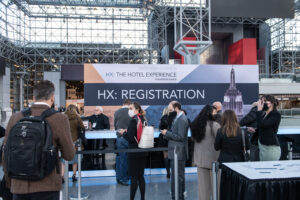 HX: The Hotel Experience is scheduled for Nov. 13-14, 2022 at the Javits Center in Manhattan. HX is the must-attend conference and expo for forward-thinking hospitality professionals. The show offers countless opportunities to discover today's must-have guest amenities and operating supplies.
The exhibit floor gives hotel owners/operators, brands, management and purchasing companies, and other industry executives direct access to a comprehensive range of equipment, GRM technology, back-of-house products, and systems that improve profitability. Held in conjunction with BDNY (Boutique Design New York), HX is where trends, tech, and ops seamlessly merge.
CLICK HERE to Register.