NEW YORK, N.Y. – Designers, architects, and creatives recently submitted ideas for relevant, customer-focused, revenue-generating foodservice pioneering concept (FPC) designs. Judges reviewed several inspiring entries, with the "G2" eventually earning top prize.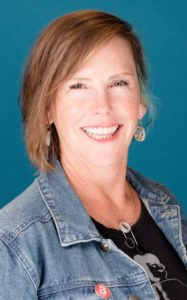 Creators Melanie Corey-Ferrini (pictured) – lead (314dc) and Joshua D. Mass (elite studio) crafted a concept that separates itself from the competition by providing a wide demographic of customers with an experience altogether different from the typical kiosk style-lobby pop-up. It's not a small footprint, touchless fast casual model either.
"The menu is designed to engage customers from breakfast to dinner," explains Corey-Ferrini. "The integrated indoor urban grow garden, along with fresh plant-based experience and nutritional offerings of greens, protein rich grains, and customizable add-ons of veggies, roots, and dairy, is easy to integrate into any location. The bowls offer something for all ages, with the specialty seasonings as an added bonus, the more adult palette will appreciate the depth of flavors."
The menu does not require a hood and uses plug n'play countertop equipment. The layout and design of the perimeter wall and metal box channels (with integrated LED tape lighting) makes the concept easy to create as a modular kit of parts that can be fabricated off-site and bolted in place. Self-contained sinks can accommodate locations with no direct water connections.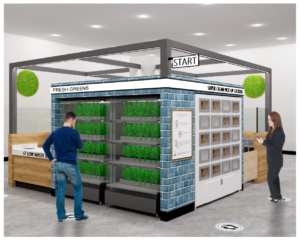 "Rather than spending time ordering from a manned order station, the customer is asked to engage in the nutrient rich mobile app," Corey-Ferrini says. "A custom G2 bowl is ordered. The making of the bowl is fully transparent, and once complete is put into a UV-cleaned touch-less locker. The container is a fully compostable low waste solution."
Keep an eye on HX: The News for an experiential 3-D walk-through of the concept in the Fall. More information will also be available, in addition to more COVID-integrated ideas. "Even before COVID, the preferences of the customer to have fast, healthy, and local ingredients was a big demand point of view," adds Corey-Ferrini. "Now, with Covid, this is even more true—not necessarily fast, but definitely healthy and local—and still able to transparently see the preparation, while being safe and touchless."
All entrants were challenged to conceive, create and rough-design their most edgy idea for:
• a revenue-generating foodservice concept that can open and operate in an under-used, nontraditional location in a hotel or resort;
• lobbies, courtyards, hallways, concourses or any high-traffic space not specifically outfitted to foodservice; and
• locations where access to water is limited and ventilation and gas connections are non-existent.