Marriott Opens New Headquarters
BETHESDA, MD – After six years of planning, design, and construction, Marriott International has opened its global headquarters in Bethesda, Maryland. The 21-story, 785,000-square-foot, LEEDv4 Gold-certified building is the new workplace for corporate associates, supporting over 8,100 hotels in 139 countries and territories around the world.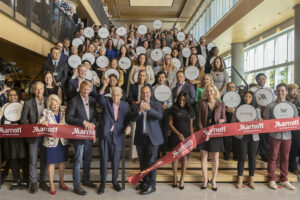 "We are thrilled to be welcoming associates to our new headquarters," said Anthony Capuano, CEO of Marriott International. "The campus has been designed to better connect our global workforce in support of our hotels and teams around the world. Empowering associates and accelerating innovation were our key priorities and central in every decision we made to deliver a compelling environment for associates to work, learn and thrive."
Marriott's new HQ campus, which includes the new Marriott Bethesda Downtown at Marriott HQ hotel next door, is designed to enable connectivity, collaboration, growth, ideation, and wellbeing through dynamic spaces and state-of-the-art technology. The new building will also serve as a global hub for Marriott's R&D operation, featuring its Innovation and Design Lab, a premium test kitchen and beverage bar, as well as "model" hotel rooms in the adjacent Marriott hotel, where new concepts, design elements, service approaches, and amenities will be tested for potential use across the company's portfolio of 30 brands.
"Unveiling our new global headquarters is an exceptional way to celebrate our 95 years of culture and innovation," said David Marriott, chairman of the Board, Marriott International. "This campus honors our storied history and roots in the local community, while showcasing Marriott's exciting next chapter of growth as we remain dedicated to our purpose of connecting people through the power of travel."
As part of the company's commitment to put people first, Marriott has created a best-in-class associate growth center, located on the top floor of the new headquarters, and named for the company's long-time CEO and executive chairman of the Board, J.W. Marriott, Jr., who is now the company's Chairman Emeritus.
$210 Million Financing Of Four citizenM Hotels
NEW YORK, N.Y. – On behalf of citizenM, Newmark has arranged a $210 million financing facility for a 904-key portfolio of four under construction and soon-to-be-delivered citizenM hotels. The Newmark team was led by Dustin Stolly and Jordan Roeschlaub, vice chairmen and co-heads of the Debt & Structured Finance team, and senior managing director Nick Scribani.
The portfolio comprises citizenM hotels anchoring strong submarkets. citizenM anchor investors include GIC, Singapore's sovereign wealth fund and APG Asset Management, a Dutch pension system. Each subject property commands a superior location proximate to many local demand drivers, such as large corporations and popular dining, shopping and entertainment districts. All four markets generate strong demand from business travel as well.
Each purpose-built hotel will offer amenities tailored to today's business and leisure travelers, such as 24/7 fitness centers, spacious and airy societyM meeting rooms, and canteenM restaurants that provide full-day food and beverage service. Additionally, certain hotels will feature ultra-desirable amenities, including cloudM rooftop bars and expansive terraces. Consistent with the global citizenM portfolio, each hotel offers a quick and intuitive check-in process, smart technology controlled by an in-room tablet and top-tier room quality.
"citizenM has the perfect room design to capture the live/work/play demand trends today's generation of travelers seek; these four new hotels will continue to push the brand to new heights as citizenM continues its rapid U.S. expansion," Stolly commented.
Wyndham Announces Alltra Resort
PARSIPPANY, N.J. – Wyndham Hotels & Resorts, the world's largest hotel franchising company with approximately 9,000 hotels across 95+ countries, recently welcomed the Wyndham Alltra Riviera Nayarit to its new Wyndham Alltra brand. This comes on the heels of the brand's debut with Wyndham Alltra Cancun and Wyndham Alltra Playa del Carmen, and further expands the upper midscale all-inclusive resort experience across Mexico. Wyndham Alltra is the Company's first brand dedicated to the fast-growing all-inclusive segment, and this resort addition continues the strategic alliance between Wyndham Hotels & Resorts and Playa Hotels & Resorts.
Wyndham Alltra Riviera Nayarit is located in Nuevo Vallarta, Mexico, nestled along Mexico's stunning Pacific coastline and lush tropical jungles at the foot of the soaring Sierra Madres. Nuevo Vallarta sits on Banderas Bay, an area well regarded for its golf courses, marina and long, sandy beach. This 229-room family-friendly all-inclusive resort helps families create unforgettable vacation memories and offers amenities including three pools, a 10,000 square foot spa, 12 restaurants and bars, a Camp Alltra kids club and daily beachfront fitness classes.
"As the world's largest hotel franchising company, Wyndham offers experiences to make travel possible for all," said Gustavo Viescas, senior vice president, Latin America and Caribbean Region, at Wyndham Hotels & Resorts. "Wyndham Alltra is an exceptional addition to our collection of brands, and we've seen great success working with Playa Hotels & Resorts to curate a stress-free and fun-filled premium travel experience at an affordable price point. We look forward to welcoming guests to this Mexican location."